Introduction
Welcome to Adventures in Dice Masters! Honestly, though, I can't promise that it will be all that adventurous. But, we are talking about Dice Masters. So, you are getting genuine retro content during our promised retro content month to celebrate the anniversary of the page. The only reason I know about Dice Masters is that I picked up a set so that we could review it when the podcast was still active.
So, why now for Dice Masters? Well, we went on our annual family vacation to Cape Cod a couple of weeks ago. That's why we weren't around for a week. You all noticed that and missed us, right? Right?! Well, in any case, Liam suggested that we play Dice Masters. I don't know if he was serious or if he thought I might forget or blow him off.
I didn't. As soon as we got home and settled in, I pulled out the cards and started sorting through them. Life as a collector is generally getting excited that you received a shipment of cards or comic books before the sobering realization that you now have to organize and find a place to store your new goodies. And that, my friends, begins our Adventures in Dice Masters. I told you that it might not be all that adventurous.
My Strategy
I have to admit that I'm not very well versed in the strategy of Dice Masters. We have played the game a few times, but certainly not enough for me to know all of the key words and most of the cards like I do Magic the Gathering. So, when putting together my team, I started with the Green Dragon from Dungeons and Dragons. Why did I choose this particularly powerful (maybe?) and potentially game ending (not so far) card of doom to start my team? I just wanted to use an card not from the Marvel Universe. For whatever reason, we have a twice as many Marvel cards as DC and only a handful of Dungeons and Dragons. I wanted to vary my team with the three universes.
While reading the Green Dragon card, I noticed that it had an ability that allowed you to spin down the dice of your opponent. I thought that was an interesting addition that the dice allow that cards don't. With card games, you can remove them, but there's not the same level up or down effect. Unless you're playing some of the older MTG sets (and there might be some obscure game that takes advantage of it, but I can't be expected to know all the games) where they have the level up cards. And, so, the theme of my team was set in place. Also, for some unknown reason, I decided to make my team rainbow with one card for each color and two miscellaneous. And now, I present the team for your scorn and ridicule.
Rainbow Spin (A Noob's Dice Masters Team)
Captain Marvel – Human/Kree Hybrid (Red): So far, in the two games that I've played, this has been the key to making the team work. I got her out in the first game and was able to hold Aiden off until he made a mistake and got too aggro one turn. I wasn't able to field her the second game and his aggro blew me out of the water.
Sabretooth – Survivor (Orange): This one combo'd very well with Captain Marvel in the first game. I'm not sure if I was applying the rule correctly, but the two of them just held down the board for so many turns until I was able to set up for lethal.
Marvel Girl – Telekinetic (Yellow): I thought this character would be an integral part of the team, but I don't think I've played it once. It would have been helpful in the second game against Aiden to save me a turn or two.
Green Dragon – Master Dragon (Green): Again, this is where the team all started. But, like Marvel Girl, I haven't even had a chance to play the die. I don't think that I've even bought one of the dice yet. Best laid plans, I guess.
Beast – Kreature (Blue): Along with Sabretooth, Beast provides relatively cheap defense while I try to dig for my more expensive dice. Again, combo'd nicely with Captain Marvel in that first game even if I'm not entirely sure that I was applying the rules correctly.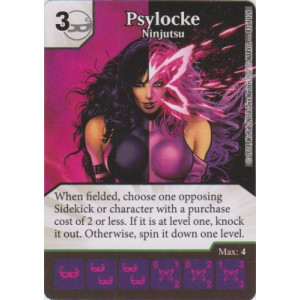 Psylocke – Ninjutsu (Violet): She was an unexpected MVP in the first game. Spun down a few characters. She even got a knockout or two. I will have to buy her more aggressively in the third game.
Giant Man – Original Avenger (Miscellaneous): This character is cheap for a lot of stats. Also, with sidekicks, you can easily spin him up to max level. I like this character a lot.
Doomsday – Unstoppable Rampage (Miscellaneous): Like Marvel Girl, I haven't played Doomsday at all in the two games we've played. But, he is a strong character and the Iron Will keyword is a nice touch.
Action Dice
Smash and Shockwave: Both of these hope to take advantage of all the spinning down I am going to be hopefully doing. They are a bit redundant, but smash is cheaper and so far I haven't had a need for any AoE. Maybe I will reevaluate after the third game to see if I can replace one of them with another card.
The Verdict
And, so we conclude our adventures in Dice Masters. The team fits very well with my personality. It is a possibly terrible team, but I have a ton of fun playing it. Stay tuned for more Dice Masters content as our two games have inspired me to buy more dice and cards. They'll be here next week some time. Until then…